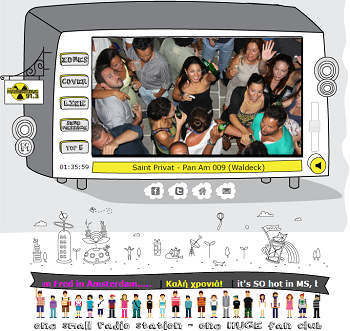 A few (explanatory) words about RadioActive "Member's Only" Player.
What we wanted was to create a player that would play on any platform PC or MAC and be compatible with all the browsers... I believe we did it!
If by any chance, no sound comes from the player then there is a chance that you have an old and outdated browser, please install all necessary audio plugins (MS Silverlight too) and everything will be fine...
Constant Sound! The RadioActive Player now supports 2 streams, one WMA (Windows Media Audio) and one MP3 stream, the W or M that you see on the lower left corner is an indication of which stream you are currently listening.
If by any chance the stream you are listening drops, the player will automatically switch to the other one... No More Interruptions!

Leftside Buttons:
Zones:
It will tell you (in local time GMT +2), which music zone is currently playing and which one is coming up next.
Covers Galore:
If you click on the Cover button you will get the current track's cover (if you're lucky and it exists)!
Like:
a) I Like this! Click on the Like button and you will participate in our TOP 5, show us what you like...
b) And not only that, if you have a Facebook profile, then (if you're lucky and the video for the track exists in YouTube), the track's video will automatically be posted on your Facebook profile! Go ahead try it!
c) Also, every track you click "Like", it automatically gets added to Your Personal Favorite Tracks list! This list is available to you from the Main Menu (My Stuff -> My Tracks).
This automatically created playlist, features the Artist/Title, date for each added track you "Liked" and also Popularity between you and other listeners for each "Liked" track, and if the track is available in YouTube, you can also play it back from there!
Send Us a Message:
If you post a message by clicking on the Send Message button you also share your thoughts with everyone, since your message is posted on the Player's scrolling message bar on the bottom! Be kind please ;-) You can also send a Private message to the producer by clicking the tickmark. (No scrolling for Private messages... hush-hush!)
Top 5:
Click it to see which tracks you and the rest of the listeners prefer. Options for All Time Favorites, This Month's Top 5, or Last Months. Don't forget to click on Like!
PS. Our music is quite particular and often not available in YouTube or elsewhere, so if you don't see the track's cover (by clicking Cover), or the Facebook Like is not activated if you click Like, don't worry, better luck next time!

Bottom Cloud Buttons:
F is for our RadioActive Facebook Group, if you're ever there, show us how much you really Like us ;-)
T is tweets, we're fresh there so do a bit of following please!
The other two is for our site (well you're here already...) and to send us an email!
We're always open to suggestions, so if you have one, do share! Feel free to share this with anyone, spread the word, we need listeners, the more the merrier!